A320 Full Flight Simulator Hire
The Aviation Institute operates two CAE A320 full flight simulators for Air New Zealand and customer crew training. Both FFS are Airbus Standard 1.8 with HUD, A320 #2 is certified by EASA to support our customer airlines.
The flight simulators are supported by a dedicated CBT classroom and 2 CAE Integrated Procedure Trainers.
Both A320 flight simulators are available for dry hire (without instructor) by Airbus 320 operators.

When capacity allows type rating and other fleet specific training may be requested.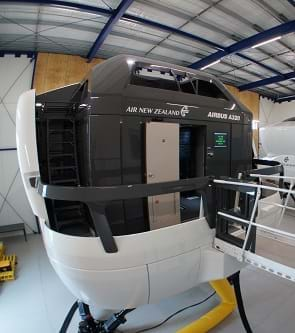 Certificates
Civil Aviation Authority of New Zealand #1
Civil Aviation Authority of New Zealand #2
European Aviation Safety Agency #2
A320 Classroom
CAE IPT
Briefing and Debriefing Rooms
Sim 1 02:00-06:00
Sim 2 06:00-10:00
Sim 3 10:00-14:00
Sim 4 14:00-18:00
Sim 5 18:00-22:00
Sim 6 22:00-02:00
Flight Simulator Specifications
A320 #1
A320 #2
Manufacturer
CAE
CAE
Aircraft Model
A320-200
A320-200
STD Qualification Level
JAR-FSTD A Level D
JAR-FSTD A Level D
Reference Document
ICAO Doc 9625
Regulatory Approvals
CAANZ Level D
CAANZ & EASA Level D
Year (upgrade)
2010
2014
Engine
IAEV2527-A5
IAE V2527-A5
Avionic Fit
STD 1.8 with HUD
STD 1.8 with HUD
Visual System
Tropos 6400 4 Channel
FOV
200 x 40 degrees
Visual Models
CAE True Airport Database
CAE True Airport Database
Motion System
Hydraulic
Electric
TCAS
TCAS II 7.1
Flight Management System
HUD
n/a
EGPWS
Honeywell
Electronic Flight Bag
Yes
IOS
Planned Upgrades / other